What's the ultimate skill that sets exceptional actors apart? It's their uncanny ability to transform into someone entirely different right before our eyes. While some performers merely scratch the surface, others dive deep, embodying historical figures with a captivating authenticity that leaves audiences spellbound. So grab some popcorn, settle in, and let's explore the actors who didn't just portray iconic characters—they became them, delivering mesmerizing performances that stand the test of time. So, Let's begin!
Eddie Redmayne And Felicity Jones As Stephen Hawking With His Wife Jane Wilde In The Theory Of Everything (2014)
If you're yet to feast your eyes on the cinematic masterpiece, 'The Theory of Everything', you're in for a treat! Eddie Redmayne and Felicity Jones dazzle with their uncanny portrayals of Stephen Hawking and his first wife, Jane Wilde. They're so spot on, it's mind-boggling! From their stellar acting to their striking resemblances, it's a movie experience you wouldn't want to miss. So, grab some popcorn and prepare to be enthralled!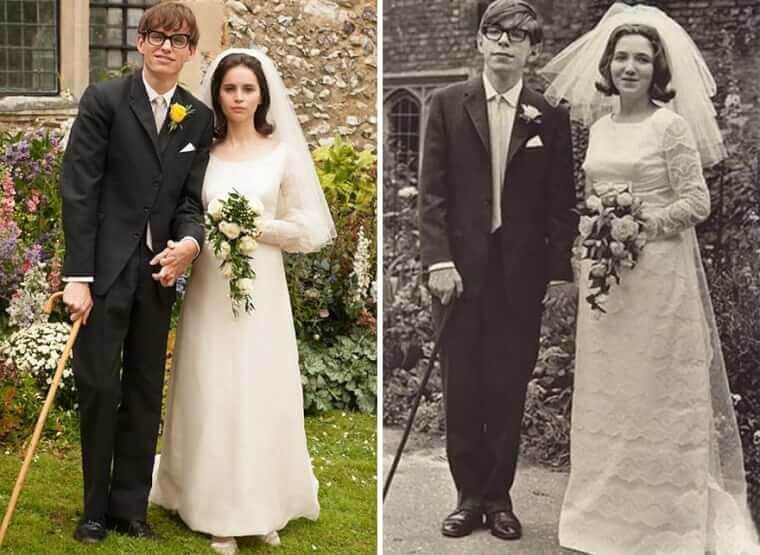 With an Oscar for Best Actor under his belt, Eddie Redmayne's performance was a tour de force that left audiences spellbound. Not to be outdone, Felicity Jones garnered high praises for her stellar acting. Her performance was so captivating that it earned her nominations for not just one, but four prestigious awards – the Golden Globe, SAG, BAFTA, and the coveted Academy Award for Best Actress.